Cum Play
Sperm Mania features some of the messiest cum fetish play ever created. We are constantly creating scenes with fresh new cum play, pushing the limits of sperm fetishism. Below are some of the types of scenes available in our members area: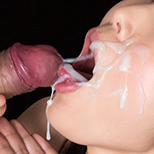 Messy Cumshots
All of our scenes feature extra messy, creamy, gooey cumshots!
Absolutely no fake cumshots are used. All 100% real semen.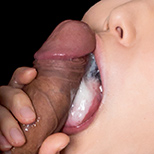 Cum Blowjob
Sloppy seconds blowjobs! Our Japanese girls suck off two guys at the same time, and after she gets a thick, sticky cumshot into her mouth she finishes off the second guy with her cum filled mouth! Our girls love to spread the cum all over dicks with their mouths and then suck it back off for some extra sloppy blowjobs.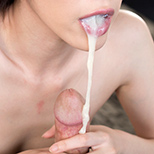 Cum Handjob
Handjobs with cum for lube! After blowing a guy to get a thick, white cumshot into her mouth, she drools all the cum onto another guys dick and jacks him off with all the sticky cum lube!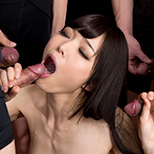 Group Cum Blowjob
Our Japanese girls love cum so much that one cumshot is never enough. Just like the cum blowjob, the girls get mouthfuls of cum for consecutive sloppy seconds blowjobs! After each guy unloads into her mouth she blows the next with the cum in her mouth, 5 to 10 dicks at a time!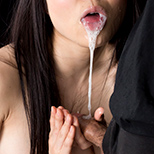 Group Cum Handjob
Guys line up for our Japanese girls to get jacked off. Just one big surprise, she spits the cum back into her hands and jacks the next guy off with it, one after the other!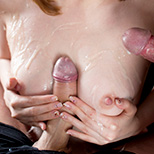 Cum Titjob
Titjobs with big cum bukkake covered tits! One lucky guy's dick gets stroked with soft Japanese tits while they are cum soaked with bukkake, ending with a creamy cummy titjob!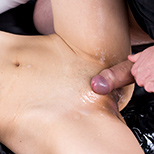 Cum Lube Sex
There's nothing better than a wet pussy except for a wet pussy soaked in sperm! A bunch of guys cover pussy with cum, then another uses the cum to fuck her silly!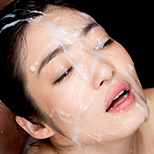 Facial Bukkake
What better than a cute Japanese girls face than her face completely covered in cum! Our Japanese sluts present their pretty little faces to be splattered with tons of sticky cumshots all at once!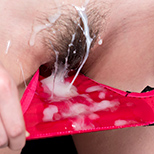 Panty Cum
Panty fetish meets cum fetish. Our girls hold their soft panties open to be filled with sperm! They get so much cum inside their panties that it bulges out and soaks their thighs and pussy. Of course it makes these Japanese girls so horny they can't help but to masturbate their cum soaked pussies!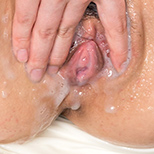 Pussy Bukkake
Cum makes our Japanese girls super horny, so we cover their pussies with lots of cum for them to masturbate with!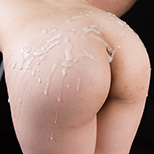 Butt Bukkake
There's nothing like a creamy soft Japanese butt covered in thick creamy cum! And don't miss the dick rubbing the cum all over their asses even more at the end!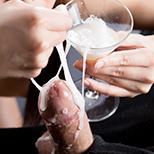 Massive Cum Handjob
Just one cumshot is not enough! Our Japanese girls collect tons of fresh cum into a glass then use that for an extreme cum lube handjob!